Textile Industries
Chemical Industries
Fertilizer Industries
Sugar Industries
Food Industries
Cement Industries
Mineral Industries
Rubber Industries
We offer innovative and cost-effective packaging concept with light weight cement bags. These laminated polypropylene bags have special linings that result in better resistant to humid conditions, in turn, leading to prolonged shelf life of the packed products. Our range of cement bags have high strength along with increased tear resistance. Hence, these bags can withstand rough handling during the process of transportation. We offer cement bags in different sizes and capacities based on the specifications provided by the clients.

Technical Specifications :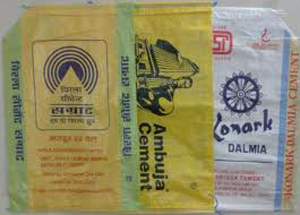 Denier (thickness of woven polypropylene strands): 400 & above
Width: 15"- 33"
Length: As specified by the customer
Colors: As specified by the customer
Capacity: As specified by the customer
Printing: Up to 4 colors on one or both sides with corona treatment / manual printing
Lamination: 15"- 33"
Enquiry...