Textile Industries
Chemical Industries
Fertilizer Industries
Sugar Industries
Food Industries
Cement Industries
Mineral Industries
Rubber Industries
We offer high quality wholesale bags that are used for packaging of products such as rice, flour, salt, chocker, maida, animal feed and more. Made from high quality material, these bags have a high strength and are ideal for bulk packaging of various products. Our range of BOPP bags provide convenience in use, perfect protection for external factors and at the same time do not affect the inherent attributes of the product. We can offer tailor made bags to meet the specific requirements of different applications.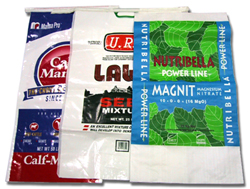 Technical Specifications :
Denier (thickness of woven polypropylene strands): 400 & above
Width: 15"- 33"
Length: As specified by the customer
Colors: As specified by the customer
Capacity: As specified by the customer
Printing: Up to 4 colors on one or both sides with corona treatment / manual printing
Lamination: 15"- 33"
Applications :
These bags are used for packing the following :
Rice
Flour
Salt
Choker
Maida
Animal Feed
Bird Feed
Agro Products
Enquiry...